Crystal Melton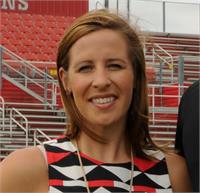 Crystal has an undergraduate degree in Health and Physical Education from the University of Georgia. She is a former UGA Cheerleader and Dance Dawg. She taught step aerobics as a graduate assistant while earning her masters in Adapted Physical Education and Movement Studies. Since 2007, Crystal has taught Health and Physical Education at Malcom Bridge Middle School while coaching competition cheerleading, swimming and track. She is excited to be part of the Above Barre team!
Crystal Melton instructs the following:
This class is for anyone (from beginner to advanced). This class incorporates concise, isometric movements to help your body focus on specific muscle groups. We use the word "pulse" in this class frequently. These small movements encourage muscle definition. All of the exercises in this class will transform your body composition and, if taken regularly, will lead to a stronger core, slimmer thighs, and toned arms.